Patient Arm Postioners
Patient arm positioners are an innovative surgical table accessory with versatility unlike any other. While they offer a variety of usages in different fields, patient arm positioners are most valuable in modern medicine and surgical applications. When installed, these devices are easy to set up and use, allowing the medical staff to dedicate more time to other, more important tasks. With the attached viscoelastic pad, patients are provided the utmost comfort.
Perhaps the best benefit of patient arm positioners is the ability to disinfect easily. Our arm positioner can be wiped and disinfected. It's anticipated that medical staff will use the patient arm positioners for multiple patients throughout the day, so easy cleaning makes the devices convenient and safer for everyone.
As the exclusive US Distributor for FISSO articulating arms, Novid Surgical proudly supplies FISSO patient arm positioners.
For OEM/Dealer sales contact us for further information
Patient Arm Support Lateral
Patient Arm Support Vertical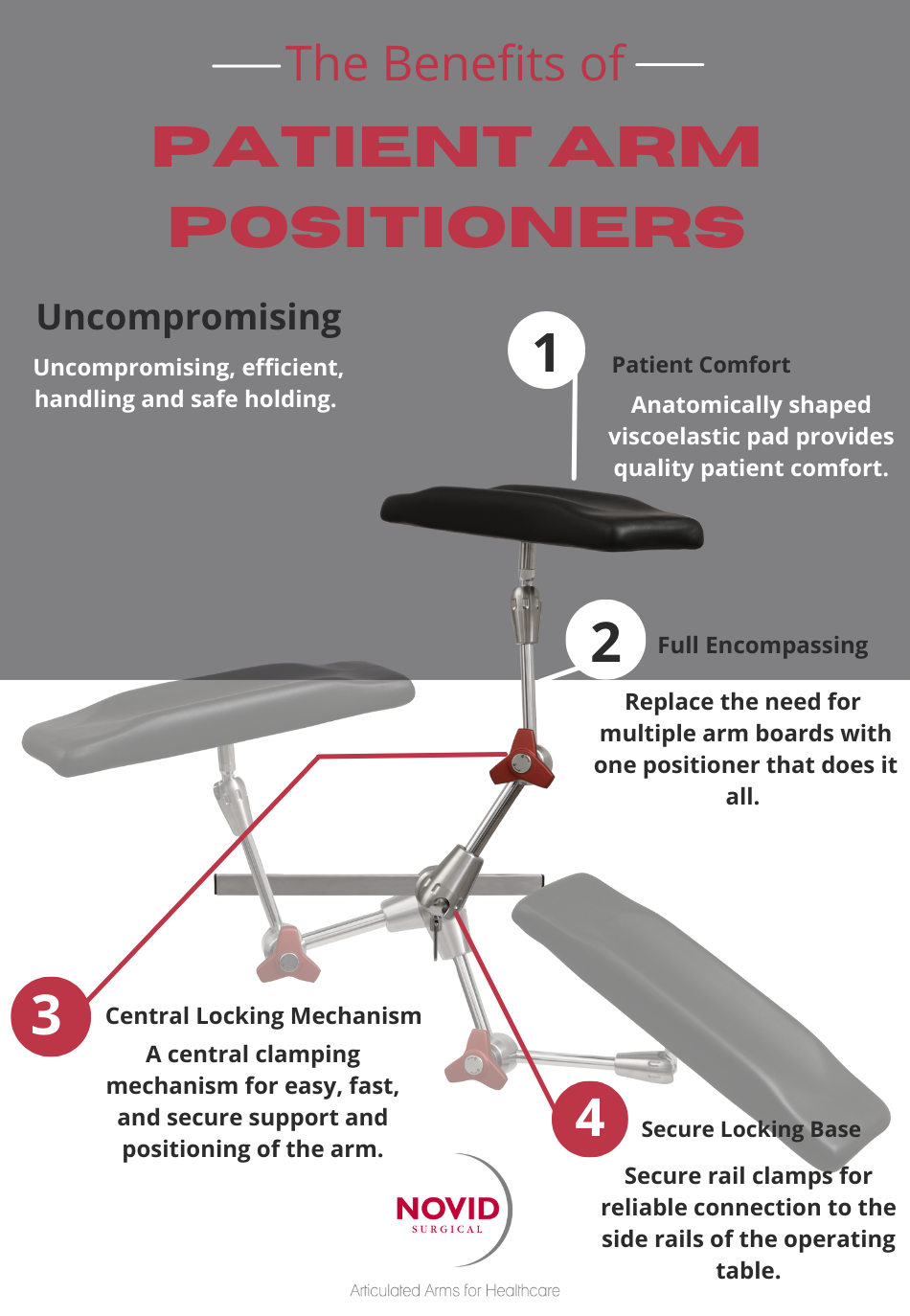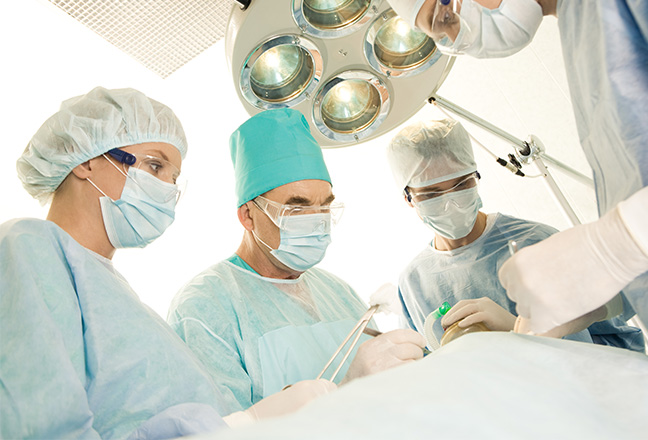 Healthcare Applications of Patient Arm Positioners
Patient arm positioners have the potential to be used in a variety of applications, even outside the medical field. However, within the healthcare industry, medical staff find these devices useful in these surgical procedures:
Beach chair (Fowler)

Lateral thoracic

Lateral jackknife

Prone

Prone spinal

Supine

Supine clamshell

Supine arms extended

Trendelenburg

Trendelenburg, reverse
How Do Patient Arm Positioners Work?
Patient arm positioners are not to be confused with traditional armboards. While they may look similar, the FISSO patient arm positioners offer a wide range of motion and a variety of healthcare uses. Let's explore how these devices work and make surgical procedures more efficient. 
Patient arm positioners are supported by  the innovative FISSO three-joint arm system, which allows for easy rotation and a reliable hold. These spherical joints also allow for expansive positioning capabilities. Using a secure rails clamp  it quickly connects to the OR table's side rails.  Medical staff can trust that the FISSO arm won't move. The knob is also designed to be ergonomic for additional ease of use. 
With both lateral and vertical arm support options, patients can remain comfortable and in the correct position for an extensive period, regardless of what procedure is being performed. Thanks to the anatomical form on the viscoelastic pad, additional comfort and safety are assured.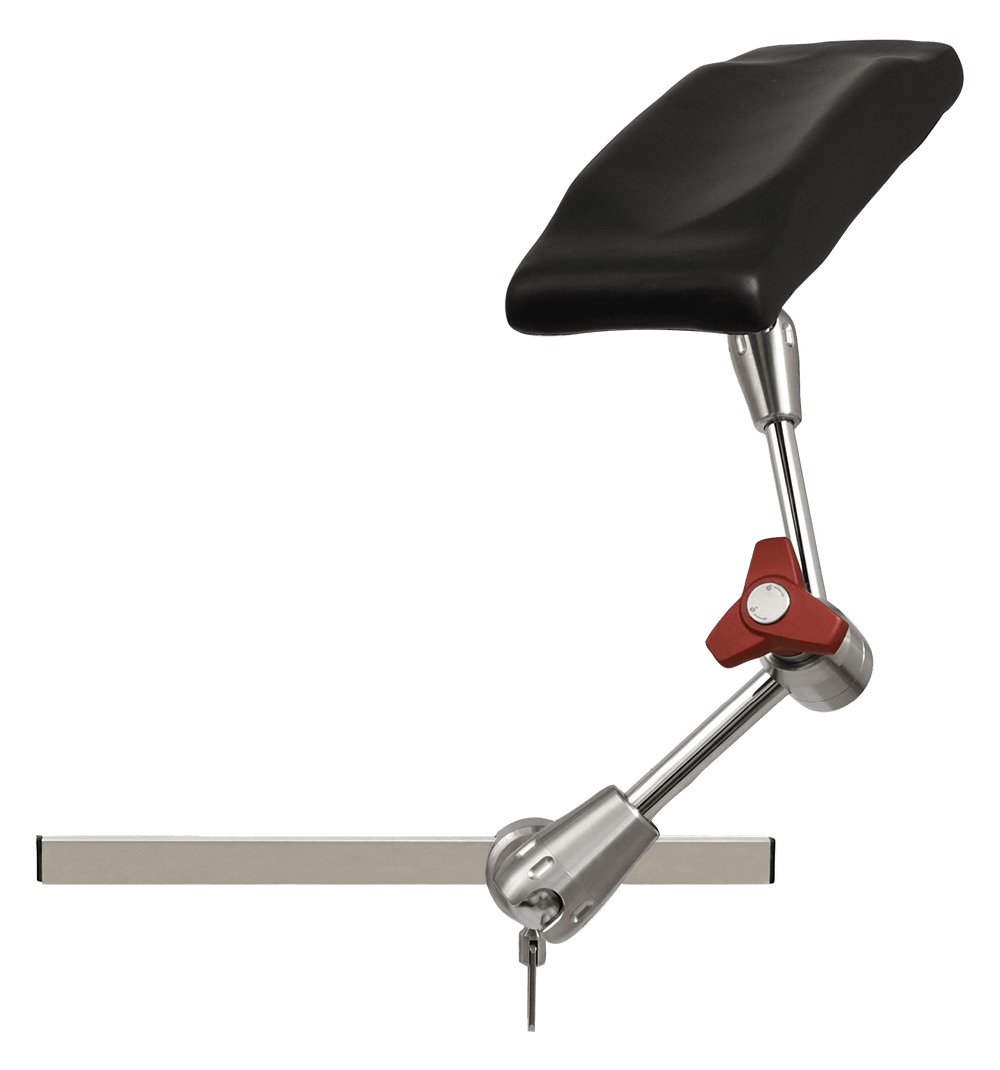 What Makes FISSO the Best?
While at first glance it appears to be an armboard , to classify it strictly as such places undue restrictions on its applied versatility.  The dynamic range of motion offered due to the incorporation of the FISSO articulating arm with the board itself means that safer, more secure positioning can be achieved with this single accessory than with two or even five  different table accessories.  It's also designed to work with all major surgical table accessory rails.
Engineered and manufactured in Switzerland, the FISSO line is made with precision and to the highest quality standards.
The Benefits of Patient
Arm Positioners
FISSO patient arm positioners offer a number of benefits that medical staff and patients alike are sure to notice. Let's go over them:
The one-step setup is quick, easy, and time-saving 

A central locking mechanism supports and positions the arm easily, quickly, and securely

The  radial rails clamp connects to  the side rails of the operating table for added reliability

The devices are efficient to use and provide unwavering support

Operating table space is freed by the compact design

The viscoelastic pad keeps patients stable and comfortable throughout surgical procedures
Why Choose Novid Surgical?
Novid Surgical is proud to serve the American healthcare system as the only approved U.S. distributor of FISSO articulating arms. From humble beginnings, the FISSO line is now recognized as the finest on the market and is the industry standard. The representatives at Novid Surgical are the trusted providers of articulating arm products in the domestic healthcare OEM market. The innovative FISSO patient arm positioners that we supply are reliable, easy to use, and supported by the signature, world-renowned FISSO arm assembly. We invite you to explore our products and contact us to request additional information.