Urology is a healthcare field that focuses on diseases and operations of the male and female urinary tract, including the kidneys, ureters, bladder, and urethra. Urology is a practice that focuses primarily on the male reproductive organs. Urologists are essential due to the fact that these health problems can happen to anyone, problems that often require surgical operation for a solution. These procedures include vasectomy (and reversal), cystoscopy, prostate procedures, ureteroscopy, orchiopexy, and much more! No matter the type of operation, it is important that surgeons have the proper tools since accuracy and precision are of the utmost importance, and Novid Surgical is here to help make that possible with our quality products. Contact us today to learn more.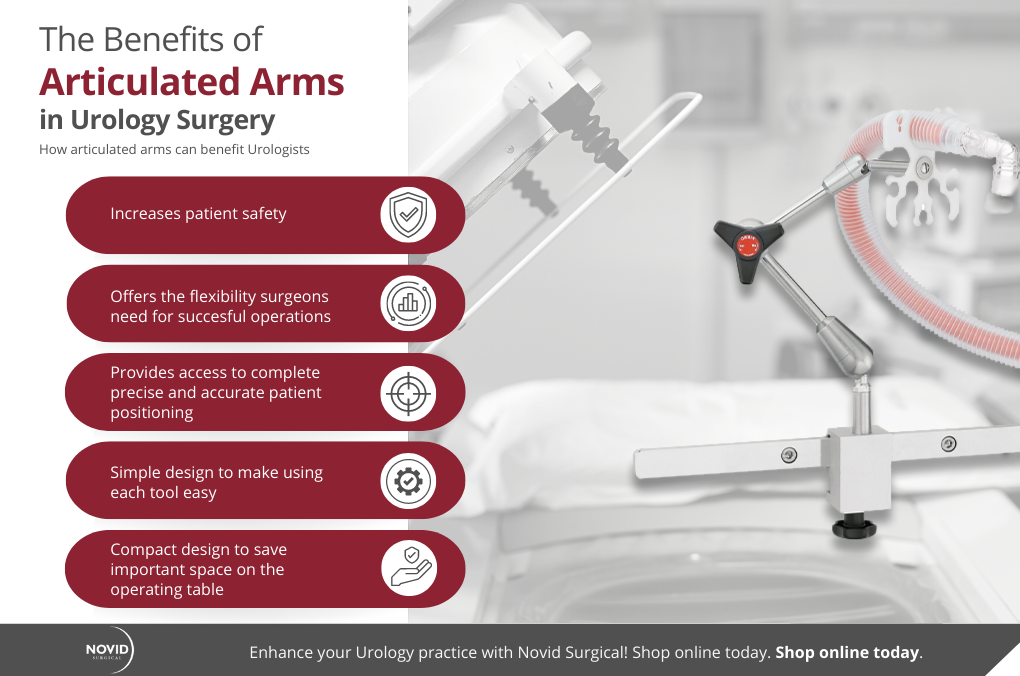 Incomparable Swiss-Made Products
Swiss-made products are second to none, as they are made with the highest quality materials, and the functionality urologists need to treat patients successfully. Novid Surgical is honored to be the exclusive seller of FISSO Swiss-made products in America, as our partnership has helped hundreds of surgeons across various fields of focus. These products are made with one thing in mind — to help surgeons complete operations as smoothly and efficiently as possible to keep patients safe and healthy. 
Some of our most popular tools include the FISSO articulated arms, as these holding systems are simple to operate, dependable, and customizable!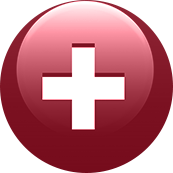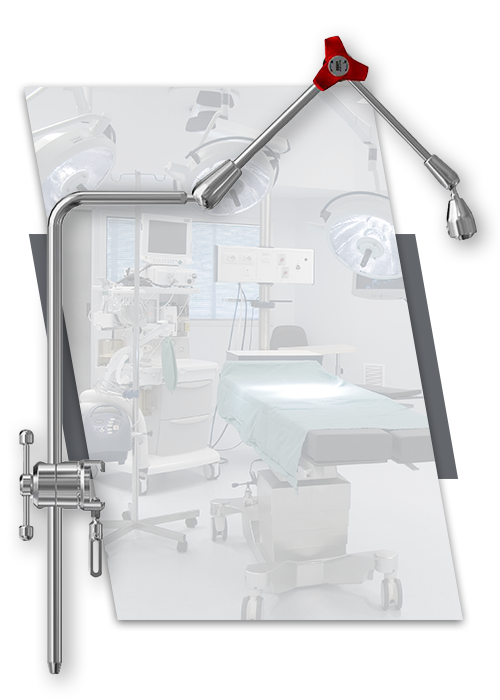 Sterilizable Surgical Articulated Arm
Urologists operate on various essential parts of the body that must be treated with the utmost care. Sterilizable tolls are often required to stop cross-contamination and other negative effects from occurring, and our FISSO Sterilizable Articulated Arms is the perfect sterile product for surgeons. These articulated arms are made with medical-grade materials that are used to help Urologists in completing vital operations that require accuracy and precision. Serving as an extension to a surgeon's arm, this product can complete tasks that often require additional staff, making them a must-have tool inside the operating room.  
Furthermore, FISSO Sterilizable Articulated Arms offer a device interface that can adequately grasp surgical instruments for Urologists during surgeries. Best of all, this modular piece can adapt to almost any surgical tool, with a quick-release option for switching between tools.
Novid Surgical Non-Sterilizable
The Novid Non-Sterilizable Articulated Arm is perfect for surgeons who see a limited amount of patients per day. Made from the same design and manufacturing philosophy of the other FISSO products that we offer, these articulated arms are great for urologists that do not require the harsh demands of steam sterilization. Instead, these articulated arms can be easily disinfected, without the need to sacrifice functionality or performance.
The Novid Non-Sterilizable Articulated Arm is designed and manufactured to allow for a high degree of freedom of motion to make Urology surgeries a smooth process. These arms can be quickly disassembled and reassembled without the need for additional tools, making them the perfect product for surgeons looking to decrease turnover rates.
Available in several sizes and configurations, these articulated arms are perfect for use in the following: 
Urology research and development

Educational purposes

Emergency medical services

Practices that do not see more than one patient in a day

And more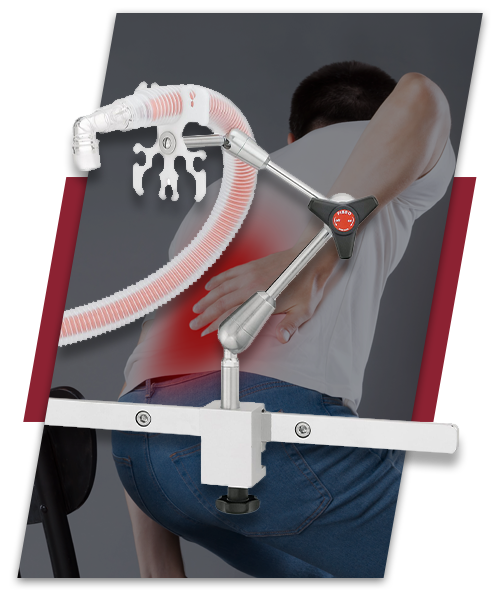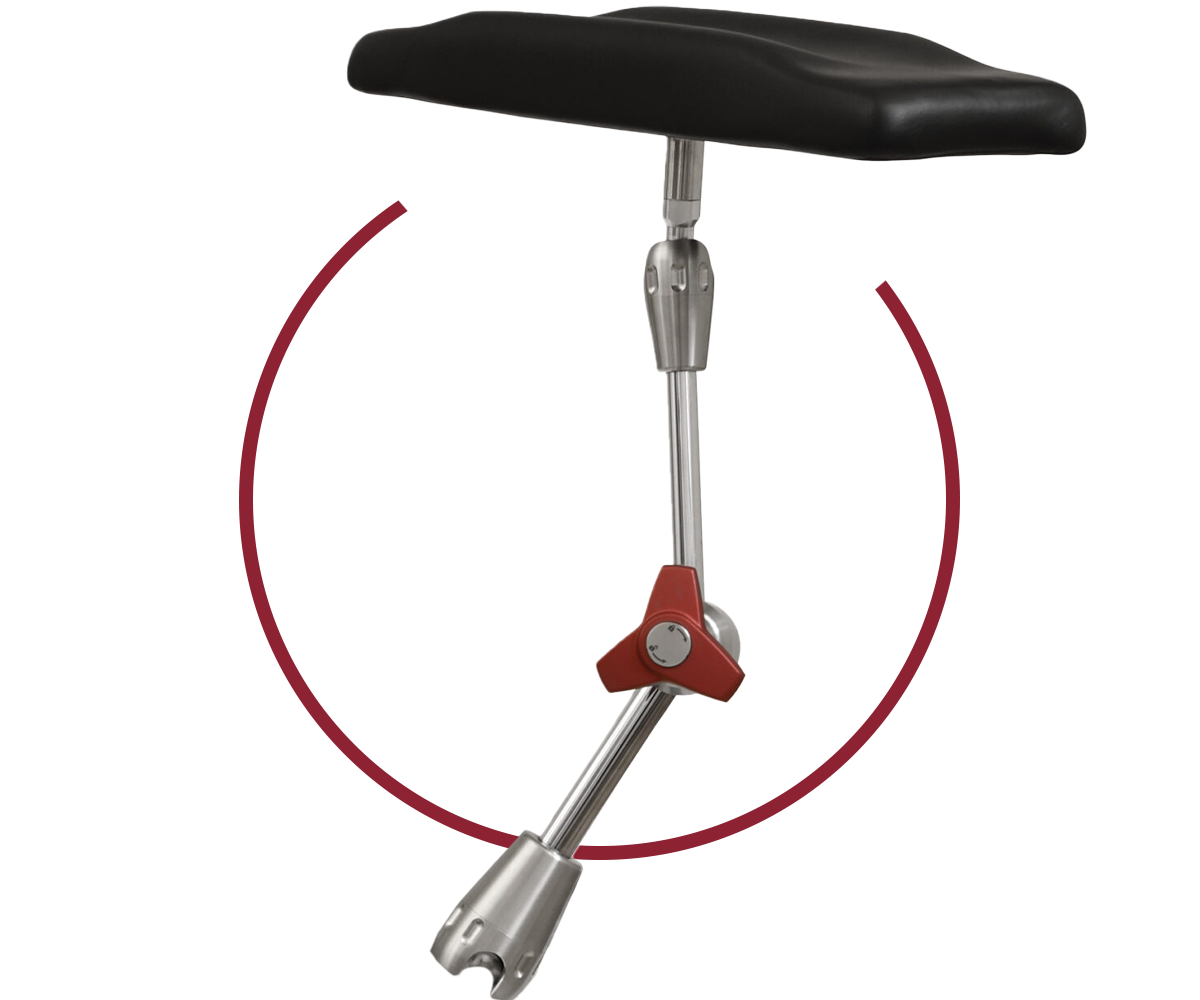 Traditional arm positioners lack the versatility and range of motion Urologists need to successfully operate on patients. FISSO Patient Arm Positioners on the other hand offer surgeons great value by providing the stability required for accurate and precise results. Not to mention, our arm positioners take away the need for additional accessories to function, as they feature a simple one-step setup that provides a dynamic range of motion that is impossible with other designs. A central locking mechanism both supports and positions the patient's arms, and does so easily, quickly, and securely. 
In addition, our arm positioners are compact enough to save valuable space on the operating table, giving surgeons room for other vital tools.
Why Choose Novid Surgical?
Novid Surgical is proud to service Urologists by offering the adequate products they need for successful operations. As the only American distributor of FISSO Swiss-made products, we strive to put our reliable, versatile, and user-friendly tools in the hands of surgeons all over the country. Contact us today for more information!